Frustrated with your to-do list? You're not alone!
[Insert your name] v 2.0
Is Now Available!
Your Personal
Productivity Assistant

to Make You:
Efficient
Capture Tasks Fast

Bookmark URL's

Block your Calendar

Stop Distractions

Stay Focused
Effective
Set Goals & Priorities

Set Goals & Priorities

Track Your Time

Track Your Commitments

Track Your Commitments

How it works?
See our
superpowers

in action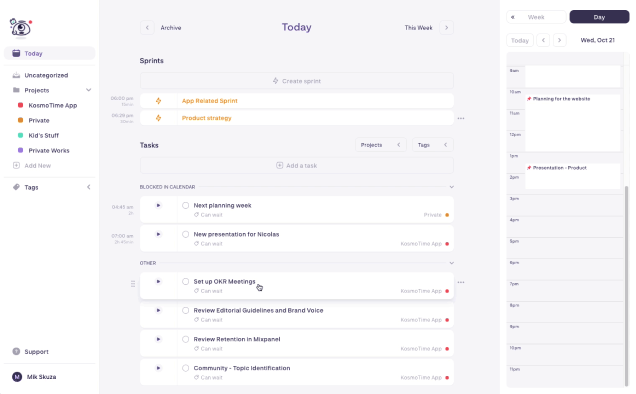 Calendar
management
Drag and drop tasks from your to-do list straight into your calendar.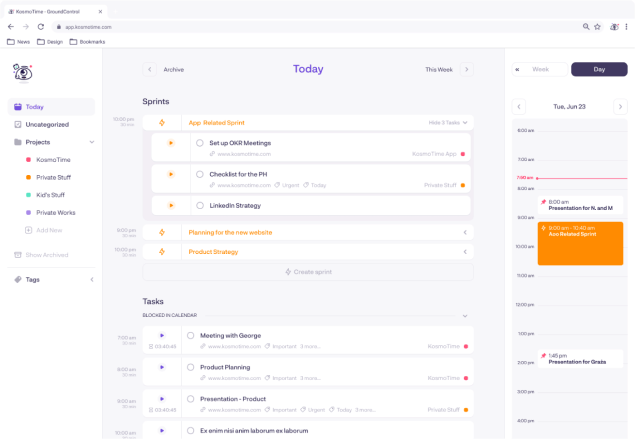 Focus Blocks
Collect similar tasks, drop them into your calendar in a Block, and execute them one after another.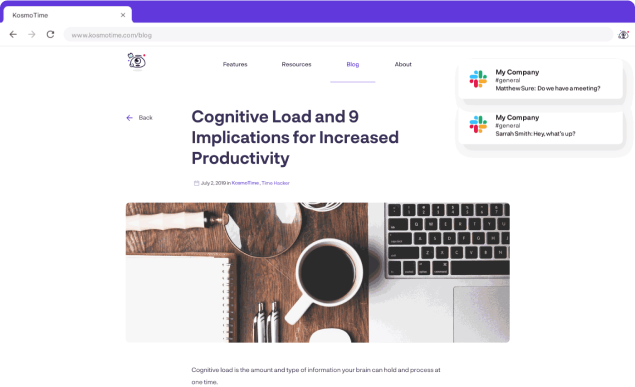 Distraction
blocking
KosmoTime's distraction blocker completely shuts out all outside distractions. It closes and blocks your Tabs and sets Slack in do not disturb mode.
Happy Users
So many aspects of my book Indistractable have been implemented in this product. Congrats!

Nir Eyal

Best Selling Author - Expert in Behavioral Design & Time Management

I'm never going back to another app. I love how it turns tasks into blocks in my calendar!

Neel Sarode

Serial Entrepreneur & SaaS Founder

I love it! It's hard to bring a fresh value to the productivity app market, you guys found a way to do it!

Omri Lachman

CEO Humavox

I love being able to group tasks into blocks, and seeing all my tasks my calendar!

Aaron Kim

Marketing at Maxi Luxii

Finally someone aced the future of todo lists!

Porush Puri

Co-Founder Deviation Apps
"The best
personal

task manager
platform I've found yet"