A day in the life of the Head of Product Marketing for Dropbox Paper
January 17, 2019 in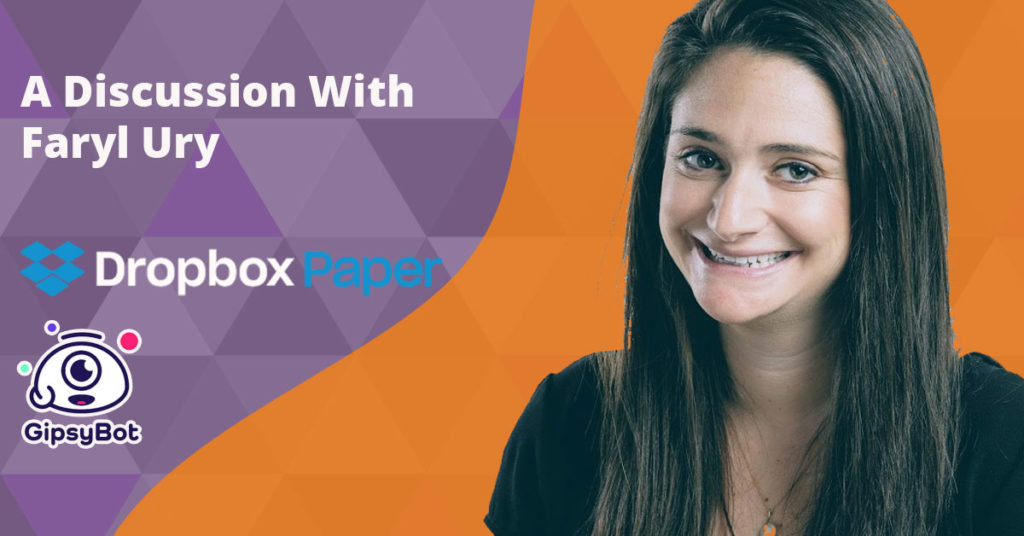 We were fortunate enough to snag a meeting with Faryl, the head of marketing for Dropbox Paper. 
In case you haven't heard, the Dropbox Paper team has been absolutely killing it as "a flexible workspace that brings people and ideas together". 
Faryl's perspectives, daily routine and experience organizing teams and projects are insightful.
Tells us a bit about your your career journey. How did you end up in Marketing?
I started my career as a journalist in Washington, DC — working as a reporter for NPR and the Associated Press (AP). I covered all types of news, including President Obama's inauguration, and also helped develop the AP's first ever social media strategy, including creating its Twitter and Facebook accounts. 
One of the best parts about being a reporter in D.C. was covering Capitol Hill, and eventually I went to work there. I served as the Press Secretary and New Media Director for U.S. Senator Jeanne Shaheen of New Hampshire. My job was to help shape the communications strategy, speak to national and local reporters 
Over time, I became more and more interested in what was happening with emerging technologies. Eventually I moved to San Francisco to work on the communications team at Square, helping it grow from a startup to a public company. Now I am the head of marketing for Dropbox Paper and lead a team tasked with building and growing a product that customers love to use. 
What are your current areas of focus in your current role?
As the head of marketing for Paper, my main focus is empowering my team to do exceptional work. That means setting the marketing strategy for Paper, providing guidance and direction for the core marketing activities that bring the strategy to life, getting alignment with teams across the company, and supporting the professional development of our talented team.
Since Paper is a relatively new product, we spend part of our time on foundational work (such as audience and market insights, as well as messaging and positioning) as well as focus on growing the product. Each member of the team focuses on a different aspect of the funnel — we need to drive awareness of Paper, we need to have content for people considering Paper.
Then we need to acquire users and help get them up and running. And once we've done that, we need to retain them. And of course, we regularly release new features, so bringing those to market is core to our work as well.
What is your "elevator pitch" for Paper at Dropbox – what problem do you solve for whom, and why is it better than the competition?
Dropbox Paper is a collaborative workspace built for teams.
It's based off of the functionality of a real-time text editor, where companies can have multiple teammates typing and editing in a doc at once. And it actually does much more than that.
For one, it handles multimedia elements really well. If you paste a link to a video, it will play right in the doc. A Pinterest board link previews too and so does a PDF link. We also have project manager layered into Paper — you can create to-do lists, assign tasks to teammates, or use our newest feature Paper timelines, directly within your doc.
We have all types of customers using Paper One of my favorite examples is Lonely Planet— they use it to put together their travel books. They have lots of people who need to work together quickly using all types of content — field research, photos, article drafts, and more.
People want their content — and the communication around their content — in one place. We built Paper because we knew teams were already using Dropbox to store their content, but it wasn't enough — they also wanted to actively collaborate with the content too.
How many days a week do you work? How many hours? 
It really depends. It can get quite busy right before a big launch, whether it's a new product, a new feature, or a new landing page. As a marketer, I think it's really important to make time to get out of the office and see what people are actually talking about, what products they're using, and what pain points they're facing.
Is your team local or remote? 
Dropbox's headquarters are in San Francisco, but we have teams all across the world. I was lucky enough to speak at an event in Sydney, Australia in March and spend time with our team out there. And then in May I had a chance to visit our London office and meet with some of our European-based customers. It's always nice to meet together in person, but with tools like Dropbox Paper, remote collaboration is getting much easier.
What does your schedule look like on a typical workday?
Varies every day, but here's an example of the types of things I might do in a day:
Meetings — lots of them! 
Product and design reviews
Customer chats
Events
User research
What tools do you use to manage company projects and initiatives?
You're probably not surprised that my answer is: Dropbox Paper! We all know the pain of having your docs in one place, your content in another, and your to do list somewhere else. Paper brings it all together.
With Paper, we can create to do lists, and assign tasks and due dates to ourselves or teammates. We also use the timelines feature to keep track of milestones and who's doing what. 
And yes, I have lots of meetings. One of the big parts of my job is helping specialized teams — from Digital Marketing to Customer Growth and Brand — understand the overall Paper objectives and how we can work together to drive towards them. So running meetings and getting everyone excited about our product, is a big part of the job. 
What are your best performing "life-hacks" that you attribute to your success? Caffeine intake, meditation, l-theanine, exercise, journaling, etc? 
Someone on my team taught me that email is someone else's to do list. I think many people (including me) are inclined to start answering emails in the early morning. Instead, I now try to scan emails for anything urgent and then I transition to deep work, projects that require a chunk of time and a lot of mental energy. I knock that out in the morning, when I am at my best, and then return non-urgent emails later in the day. 
How do you see the future of AI affecting your role?
I believe humans will still be at the center of what we do. But if automation can help speed up some more tedious tasks (organizing docs, auto-populating meeting notes, etc.), I believe we will have more time for what makes us uniquely human — the ability to be creative. 
At Dropbox, we're using machine intelligence to improve the work experience — whether it's organizing content, adding context, or prioritizing important files and folders. We recently introduced new search tools powered by AI, that make finding content easier.
Every image and PDF I upload into Dropbox is scanned for text, which means I don't have to search through all my photos for an expense report receipt or spend 15 minutes trying to remember the file name of a contract. 
We also rebuilt our search infrastructure to improve the quality and speed of results from the hundreds of billions of pieces of content our customers keep in Dropbox.
Do you have a favorite book or podcast? What do you like and why is it your favorite?
From a business perspective, I recently read Difficult Conversations and next up, I am planning to read Measure What Matters. For fun, I recently finished all four of Elena Ferrante's Neapolitan novels. And I like listening to This American Life and The Autonocast, which is about the future of self-driving cars
What's your superpower and how did it come in handy while building your company?

I love connecting with people and get energy from being around others. Maybe it's my journalism roots, but I always have a lot of questions when I meet someone new.
I want to hear about their career, their family, and their opinions on an array of topics. I think people appreciate having this chance to connect on a personal level — and having these relationships has really helped throughout my career.
How do you measure success every day?
We have growth metrics as a Paper team. So we're constantly pushing to grow our customer base and help them get more value from our products. We look at things like usage, onboarding completion rates, landing page visits, and more.
I also think a lot about the people who work on my team. I ask myself if I am pushing them to be customer-centric, data-driven, and strong storytellers.
And I check in to make sure they're happy and working on a a mix of projects they're excited about and stretch assignments that scare them a bit. We spend a lot of time at work so I think it's important we enjoy it.
Get access to GipsyBot ????
Skyrocket your productivity with an AI powered to-do list. Request early access today.