Why You Need A Time Blocking App In Your Life
October 14, 2021 in
If you've landed here, it's probably that you're already familiar* with time blocking – a very well-known productivity technique that some call timeboxing or calendar blocking – and that you may be looking for a new tool.

*And if not, I've got you covered! I invite you to read some of our previous posts related to time blocking:

– How To Get The Most Of Your Days: The Time Blocking Strategy
– Calendar and Time Blocking: Get Back Control Of Your Time
– Time Blocking Template: Download Your Free Printable Planner


First thing first: what is a time blocking app?

It's a tool that's going to help you apply the core principles of time blocking in your professional and personal life, thanks to:

– The use of your calendar,
– And the scheduling of tasks that you aim to accomplish.

Using a time blocking app is like having a personal assistant that's here to help you tackle your day and track your progress.

Here are the 5 main benefits of using a time blocking app daily:

1. It helps you define your priorities.
2. It helps you keep track of your goals and progress.
3. It helps you fight procrastination.
4. It encourages you to focus on one task at a time (Say good-bye to context switching!)
5. It makes you aware of how you spend your time.


What features make a time blocking app powerful and effective?

Calendar(s)
First of all, you need a time blocking app that either provides a calendar tool or displays your own calendar. The calendar is the tool Number One for a successful time blocking journey.

If just like me, you use more than one calendar to manage your professional and personal schedules, then a Multi-Calendar Sync option will do wonders!

Ideally, you want to be able to consult all your events/tasks in one same place so you can easily see at a glance what keeps you busy, and when you have the time to act on your tasks. Free time = potential time to block for tasks.
Not only that! It's also the most efficient way to give others – colleagues, friends, and family – the possibility to see when you're busy, and therefore protect your time from others.

No more missed meetings, no more double bookings!

Task Management
What would be a time blocking app without a solid way of managing your tasks?
Just like a to-do list, you need a solution that enables you to list out all the tasks you plan to do, with the possibility to batch similar tasks together.

Why? Well, because tackling tasks of the same context will enhance your focus and productivity. Some tasks require the same type of skills, or energy, or are tied to the same main objective. Therefore, you better group them to maximize efficiency.

Behavior #1
Depending on the project or the situation, you may prefer listing out all the tasks you can think of first. Then, as a second phase, when your list is ready, you may want to schedule in your calendar when to act on those tasks, and possibly group some of them into a focus block.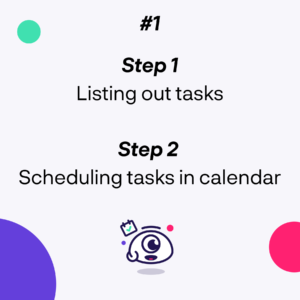 Behavior #2
Or, as soon as a new task comes in, you may prefer to consult your calendar first, identify when you have free time (or when it's the most appropriate time to act on that task). And then, create and schedule it directly in your calendar.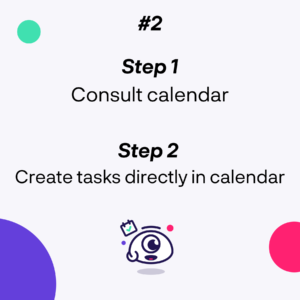 Time Tracking
Oh, time! A valuable resource we want to cherish, protect, make the most of, and manage in the smartest way possible. A time blocking app that enables you to track your time will help you in 3 main ways:

1. You'll be able to finally understand how you truly spend your time: which type of tasks or which project, what your morning vs. afternoon productivity looks like, etc.

2. You'll be able to identify how long a task does take: we're usually not very good at guessing accurately how long a task does take to be completed. You scheduled 30 minutes for it, but soon will realize you needed double the time to accomplish it correctly. With practice, tracking time will help you get better at planning.

3. You'll be motivated to focus and complete your task within the time allocated for it: naturally, you will want to remain efficient without getting distracted and respect the amount of time you have given to your project. Tracking time helps you become accountable and motivates you to work within a predefined time frame.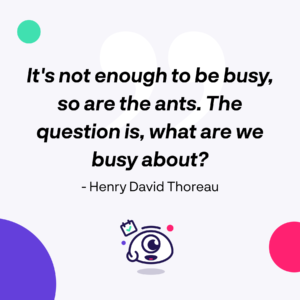 Time blocking app: what users say about KosmoTime.

And now, you may wonder if such a time blocking app does exist? Best news of the day: it does! Let me introduce you to KosmoTime, the Smart Calendar for Time Blocking and Focused Work.

Before you try it yourself, I wanted to share recent feedback we received from some of our happy users. We're so grateful that some of them take the time to show their support and wish to testify about how KosmoTime brings amazing improvements to their daily productivity.

We're building a product that is meant to help anyone that wants to get better at scheduling and achieving. KosmoTime has evolved a lot in the past few months, and thanks to our users, we've been able to bring to the market a powerful time blocking app that has unique features and cool integrations.

In a nutshell, KosmoTime is a time blocking app with which you can:

– Create tasks and schedule them directly in your calendar.
– Sync as many Google and Outlook calendars as you need.
– Mute all distractions so you can focus on your work and find your state of flow.
– Track time and consult Time Reports whenever you need.
– Integrate with Asana and Slack


Experience always speaks for itself. Interested? Then, read below ? ?

This is the most underrated productivity tool. Made multiple tools and systems that I was using obsolete. Integration with personal and work calendars is flawless. It helps me with my open tab addiction too, I just add them to catch-all-projects using the browser extension. – Carlisia Thompson, Software Engineer
I started to use KosmoTime for synchronizing my calendars. It is very easy and quick. Just add your Google Accounts, select the synchronizing type and that's all. Also, you can add focus blocks. I really needed something like this! – Duyk, Digital Ninja and Pitch Deck Designer
I'm what people would call a productivity nerd. One thing that hasn't been satisfactory up to now is the logic between my calendar and my tasks. They are separate entities… even though I only have 24 hours in a day to jump on Zoom calls and do as many tasks as possible. The end result: I jump on the calls, sure, but tasks are left behind. Not good. Here's where KosmoTime made a big difference for me: I can have both on a continuous timeline. Been leveraging KosmoTime as an early user for the past couple of months and it has really improved how I organize my day, enabling me to tackle the right priorities in between the calls! – Guillaume Cabane, Growth Advisor and Speaker
Without a doubt, this is the best to-do list/calendar manager out there. It's really the first one that has integrated timeboxing effectively and the concept of focus blocks. The Asana integration is so perfect for staying on track with my teams and overall it just fits my life very well. I am a huge fan of the product and I can't wait to see where they go with it. It's the best thing on the market that I've found and they're barely getting started! – Andrew Williams, Director of Product Marketing & Growth
I have been using KosmoTime for over a year and it's wonderful. It has changed my life for good, has made me more productive, and has blessed me with clarity! Great design and yes, they have aced the to-do list. I used to love Microsoft's To Do, but I shifted over to KosmoTime and I do not regret it. Absolutely recommended. – Porush Puri, Marketer & Designer
There are a ton of competing priorities when you are in sales – internal meetings, client meetings, prep for client meetings, prospecting efforts, email writing for prospecting, follow-up, building business cases… The list goes on and on.
KosmoTime is the first tool that has helped me block and tackle my day. I can hold myself accountable to my daily tasks and plan those tasks directly in my Google Calendar. I love receiving the morning email that tells me if my day was productive or not with the amount of associated tasks completed the day before and a fun gif.
I can't wait to see what KosmoTime does next, and I'm keeping my fingers crossed for an iOS app for task management on the go. Keep doing good things KosmoTeam! – Kora Graham, Enterprise AE

Sign up today! And join us on Friends of Kosmo, our dedicated Slack channel where the KosmoTeam and KosmoTime users discuss feedback and updates.

Oh, and did I mention that we have the best lifetime deal ever?

KosmoTime is a 100% free time blocking app!